A University of Stirling heritage expert has been awarded a prestigious grant to explore the contemporary meanings and values of the Stone of Destiny.
Professor Sally Foster, of Stirling's Faculty of Arts and Humanities, has received a British Academy/Leverhulme Trust Senior Research Fellowship of just over £50,000 for her research study: Authenticity's child: contemporary meanings and future destinies for the 'Stone of Scone'.
The Stone of Destiny – also known as the Stone of Scone – is an ancient symbol of Scotland's monarchy, used for centuries in the inauguration of its kings. Seen as a sacred object, its earliest origins are unknown. Having been seized by King Edward I of England in 1296, in 1950 it was removed from Westminster Abbey by four Scottish students, before being officially returned to Scotland in 1996. Today it is displayed alongside the Honours of Scotland at Edinburgh Castle.
It will temporarily leave Edinburgh Castle for the coronation of King Charles III, taking place on 6 May, and in 2024, will return to its Perthshire roots, moving there as the centrepiece of the new Perth Museum.
Professor Foster said: "The 2023 coronation of Charles III in Westminster Abbey and the 2024 relocation of the medieval Stone of Scone or Stone of Destiny to Perth's new museum is rekindling interest in the future of this national icon, what stories to tell about it and how.

"There is an unparalleled opportunity to explore, for the first time, the Stone's contemporary authenticity and social value in real time while it moves between multiple contexts. The Stone is the supreme example of an object defined across time and space by how diverse communities negotiate its authenticity or inauthenticity and contest its meanings."
The research aims to diversify public engagement with the Stone by producing memorable research-led stories of contemporary relevance that provoke new thinking about this national icon.
Dr Foster's work is also being supported by the Leverhulme Trust through the British Academy/Leverhulme Small Research Grant Scheme.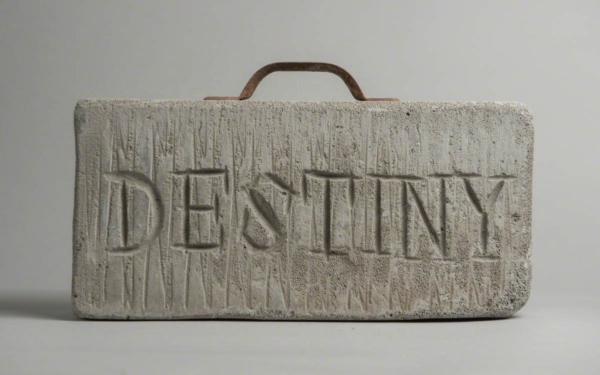 An exhibition relating to the research: 'The Stone of Destiny – a moving story', which features an artwork Stone of Destiny created by the artist George Wyllie, is currently open at the Pathfoot building at the University of Stirling. In 1996, when the UK Government returned the Stone to Scotland, Wyllie made a series of portable, limited-edition concrete breeze-block stones, which feature an aluminium handle and the word 'Destiny' on one side, to allow for all the possible claimants to the real stone to have one.
For more information about Professor Foster's research, please visit the project website.